Sick of getting Dad another box of golf balls for Christmas?  Yea, me too!  Does your husband really need another golf shirt?  I didn't think so.  If you're tired of the boring and predictable gifts for your favorite golfer, you've come to the right place!
It's the day after Thanksgiving today and I'm still recovering from too much turkey, pinot noir, and more pumpkin pecan cobbler than any self-respecting person should ever eat.  The dread about Christmas set in exactly as the indigestion from last night's dinner subsided.  All of a sudden I have just a few short weeks to take care of all the people on my list.  Must. Not. Panic. If you have golfers on your list, like I do, I hope these creative gift ideas will make your life a little easier this year, so here is my…
2015 Christmas Gift Guide for your Favorite Golfer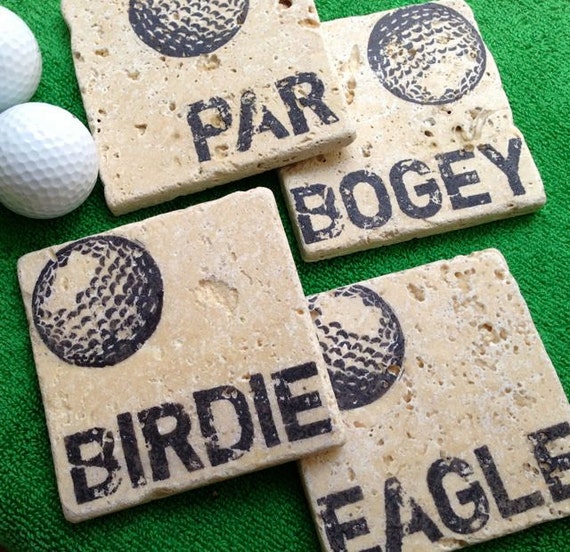 If your favorite golfer already has everything, I bet they don't have a set of nice golf coasters!  I found these on Etsy – a very dangerous place, by the way.  They are fun, useful, and great for men or women.  These coasters are made of a tumbled travertine tile and the set comes with four 4×4 coasters.
I've seen these things in action a few times and they are actually quite useful.  You attach it to the end of your putter, and use it to pick up your ball on the green so you don't have to bend over.  It's simple, unobtrusive, and totally offensive to the able-bodied golfer.  If you enjoy a good ribbing like I do, put this in Mr. Sensitive's stocking and get ready to enjoy the offended look of shock on their face. Then check in with them 2 months later to find them using it and loving it!
Shopping for a friend or boyfriend can be difficult, especially if the relationship is still fresh and new.  You want to get something thoughtful, but you want to avoid sending the wrong signals about the seriousness of the relationship.  Enter the Players Towel.  I've used a lot of golf towels over the years and this one is the best, hands down!  I purchased mine 4 years ago and it's still going strong.
Let's face it…most golf towels are really terrible!  Not the Players Towel.  The weave pattern holds more than 30 times its weight in water, making it more effective at cleaning ridges and retaining moisture.  The microfiber material picks up dirt and moisture and holds it within the cloth, resulting in a cleaner, drier surface and enhanced player performance.
Best of all, the Players Towel can be personalized with custom logos, signatures, and colors. Just be sure to get a dark color…golf towels start to look really gross pretty quick, so go for navy or black.
This device connects to your iPhone to provide distances, data, and analysis for every shot you hit.  It's a rangefinder… and then some!  It's able to track every shot of your round and provide valuable stats to help you identify opportunities for improvement.  You can read an in-depth review of Arccos Golf here.
Lessons at the driving range are great, but on-course playing lessons for a new golfer are essential.  Most golfers never think to get a playing lesson or they underestimate its ability to help them improve quickly.  The on-course lesson will go beyond the basics of grip, stance, ball position, and the swing.  On-course lessons are essential for actually learning to play golf – how to read putts, club selection, decision-making in tough spots – all essential elements of golf that you can't learn with a pro on the range.  Most pros will give playing lessons.  The best resource for finding a pro is to ask around or hire the pro where your newbie golfer likes to practice or play.  Alternatively, you could google "PGA Professional + your city"  to find a list of local teaching pros.  Before you hire someone, ask what their teaching philosophy is and how they can help your newbie golfer before you hire them.  Most pros do well with this group, but it's important to find a good match.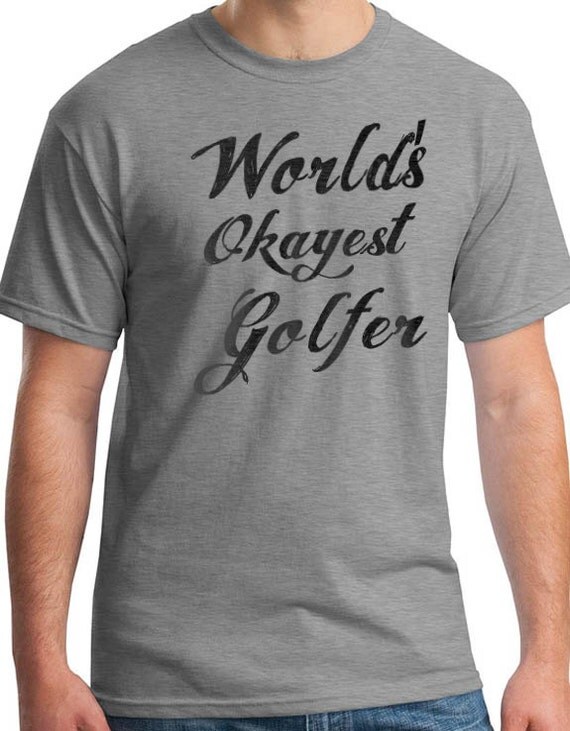 I love this shirt! It's funny because it's true!  This tee is a steal at under $20…perfect if you're on a tight budget.  This shirt is another Etsy find – I told you that place is dangerous!  The shop is based in Los Angeles and these T-shirts are screen printed by hand and made to order on 100% Cotton tees.
I saved the best for last with Nomo design's golf course prints.  These are gorgeous, totally mind blowing, and unique!
My husband stumbled upon Nomo design through a car forum where he spends too much time.  In addition to their Auto Icon Series (of which I have purchased two of their designs), they also have prints for iconic golf courses – Augusta, Pebble Beach, Muirfield, etc.
NOMO Design was founded by designer Jerome Daksiewicz in 2010 with just one print for sale, that year's Tour de France print.  If you are looking for something truly unique…something that no one else will have on their walls, order one of Jerome's prints.
Well, there you have it, my top gifts for every golfer this Christmas! I hope these ideas help you find the perfect gift for your favorite golfer!